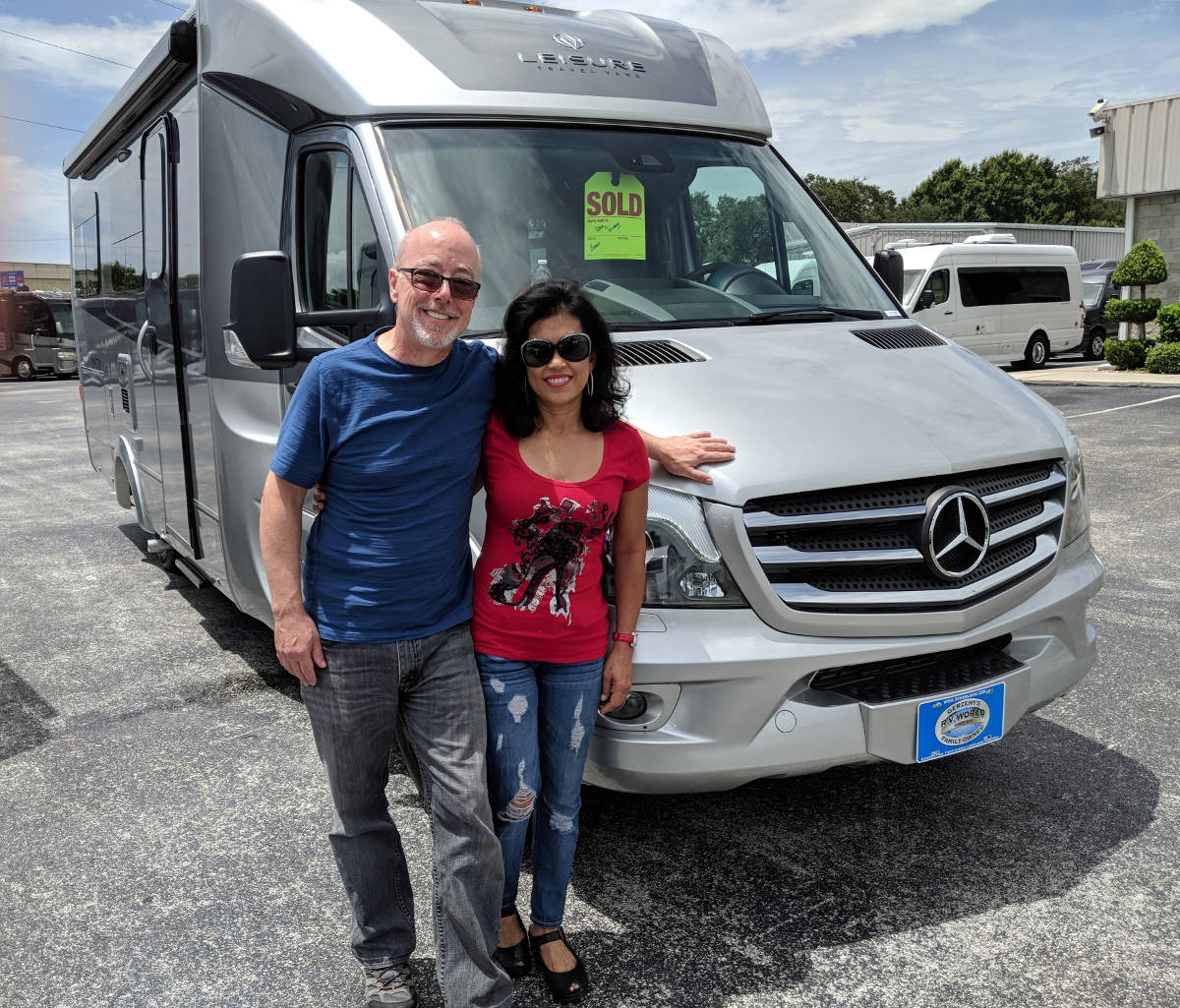 Exactly one year after we ordered it we finally picked it up!
Some (kinda long) random thoughts about the purchase that may benefit some contemplating the same.
First, the dealer. We decided to buy from RV World in Florida (Lakeland Location), primarily because we are only an hour away. I'm aware that there are some negative reviews out there on them, but we had a good purchase experience from ordering all the way through pickup. The sales guy was Bruce and the walk-through guy was Tom. They delivered as promised (albeit some months late) and there were no problems with the process.
The most impressive part of the closing process was that although the dealer offered the obligatory extended warranty add-ons, she (Lisa the Finance and closing person) did it professionally and accurately without ruining the whole experience like most car dealers do. Lisa was likewise professional and helpful all the way through. We did all the documentation over email so the closing was just a quick signing. They even had the permanent tags ready and in hand when we arrived.
The walk-through was definitely a bit on the abbreviated side, and I'm pretty sure Tom figured out thats the version we wanted. He was a friendly and helpful guy, but I had already skimmed the manuals and was anxious to get going. Tom had some helpful hints like the fact that he'd seen several damaged $900 Mercedes hoods from rough handling the closing latch (you have to raise the hood first) and that was the most appreciated tidbit in the session (more on that later).
(We didn't really bother with the super extended walk through or inspection that seems the norm as we figured as long as something major wasn't wrong (poor paint job, wrong options, etc) everything else is covered under warranty and the dealer is nearby.)
Second, the payment. We decided in the end to finance as we can always pay off early if we decide (we are not retired). We went with the deal offered by RV World – 5% interest at Bank of America for 20 years (which seems absurd for an RV) because I couldn't find it lower anywhere else.
Third the coach itself. First impression was, the silver color, coal seats, and cherry cabinets look great!
We chose the Unity Unicorn – otherwise known as Corner bed, for the spacious U-Lounge, cavernous salon area with slide-out, and the separate rear corner bedroom. We think the rear bedroom is super comfortable and always there and we are both well under 6 feet tall so its just right for us.
I gotta say though, that a few things aren't so well done:
Open the chassis doors and they are all painted plumbing truck white. LTV apparently does not paint the door frames, which while it might have added $1,000 to the price, is just… yuck. I guess we originally only looked at white models, so we never noticed. Every paint shop in North America knows how to paint door frames – its a bit tedious masking off the interior and takes a little time. I wish LTV had gone the extra mile there.
The solar controller is mounted on the ceiling inside the bulkhead cabinet. You are always going to have to get a flashlight to read it. What where they thinking? No matter how many hours 3 random people plotted you could not come up with a worse location – except maybe inside the toilet bowel, or something.
The AC drips water randomly everywhere down the roof because there is no sort of roof gutter or even better a drip pan and water line. We've never owned an RV before, but I asked Tom about that and he said many of the brands on the lot have good drip systems engineered in to bring the water down without staining the paint.
Macerator has no gray water bypass valve. That's going to the top of my to-do list to engineer a fix. I know they try to keep these coaches simple, but if you are stationary for a while with hookups, it just makes sense to have a gray water bypass running into the sewer. (Then before you depart you close it off and put some water down the gray tank to use to flush out the black.) Edit: I later learned it does have a bypass, but I haven't gotten mine to work… yet!
The rear bed has a small compartment that gains inspection access to some components below by lifting the bed. On the CB model, its REALLY minimal maybe a few towels. I managed to tear out all of the screws from the compartment, which in retrospect is a bit like the Mercedes hood – only it has an even weirder little twist to close. Manhandling that just a tiny bit revealed a half dozen tiny screws – maybe suitable for a child's toy – which all popped out of the flimsy plywood below. At least I learned my lesson and can spend 50 cents and buy some beefier screws – instead of making the same mistake on the hood.
As others have noted – the in-dash unit with Becker maps is abysmal. I'm sure it works as intended but I'm not ready to go back in time to 2010 yet – we'll replace it with the new Pioneer 8400nex with wireless Android Auto and Apple Car Play, dvd, etc.
Similarly, it bugs me that I have to add a separate Blue-ray player now because the Jensen is likewise from a bygone era.
The gray Corian counter is so-so. My wife – Merly – thinks they mounted it upside down because when she turned the cutting board over its a much more pleasing pattern underneath. Our whole counter top is sort of a gray slate with little variety.
We've lived in a lot of houses, and for the most part, from the day we purchased up until shortly before we sold it, we continuously upgraded and enhanced them. Some HUGE projects (we chopped off the whole second floor of our first home in Long Island and replaced it with a larger one) and some tiny ones (we replaced the front door lock in our current home with a keyless electronic one) but all were the result of my wife and I reimagining our living space and figuring out ways to make it work better for us.
DEFINITELY don't want to give the impression any of this spoiled our experience – we are VERY happy with the purchase! These size RVs are always going to be a collection of compromises and not a single thing so far is a deal killer, just gives us some fun projects for the future!