I previously installed a Cradlepoint IBR900 Router.
I was reasonably satisfied with it. It wasn't a perfect experience though. The registration process (required to manage remotely) was chaotic and took numerous calls and trouble tickets to be resolved.
It immediately started crashing due to router bugs. Again, resolved through support tickets. It was a firmware bug.
Since then it has worked pretty well.
The Cradlepoint had two sim cards mounted, Verizon and AT&T. More than once, I found our RV in really marginal signal conditions. In a couple cases Verizon would work for a little while and then go offline and sometimes AT&T would work. The problem is, with a normal dual sim router it takes about 5 minutes each time to get out a laptop and reconfigure the router. (Since it takes so long to re-provision its not really useful to have an automatic fail-over, especially on fringe conditions.)
The new Pepwave solves that. It has 2 active modems and a total of 4 sims (each modem can have a backup).
The first step in installing this is to get 12 volt power. I previously hardwired the Cradlepoint cable, which was kind of dumb because routers are often upgraded every few years.
So this time around I instead installed a cigarette lighter socket. The green push button switch turns it off if I want to kill the Internet.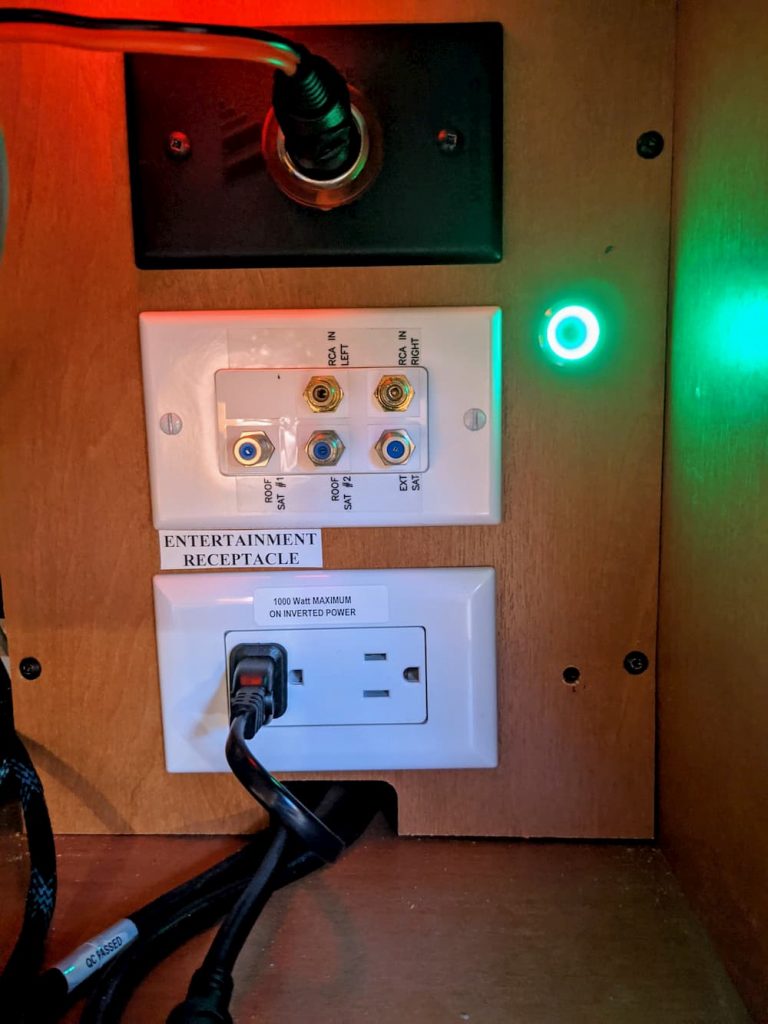 I like never having to do the same thing twice, and with a cigarette lighter adapter in the entertainment cabinet future routers can drop in.
I mounted it in the Winegard Connect 2.0 plate which came with my Unity. (The Winegard is long gone.)
The next step was installing the Poynting 7-1 antenna. From my previous installation I had already drilled a hole in the roof above my entertainment cabinet.
The antenna has a really cool design that has multiple mounting options including a stick-on with tape.
However the manual suggests a large 16″ ground plane. While not strictly required, and the YouTube videos I found all skipped it, I knew if I skimped on the ground plane I would regret it in a poor signal area where it may make the difference.
So the first step was to scrape off the old antenna and its ground plane which took a while on the ladder as I had installed VHB tape on the old junction box. I decided that because this thing uses 7 cables its just too awkward to use a junction box which requires a hole and cable gland for every single wire.
So Instead I'll be placing it right over the hole and just fishing the Sirius wire along the path.
This is the almost final result – I later added a wire tie at the rear cable loop: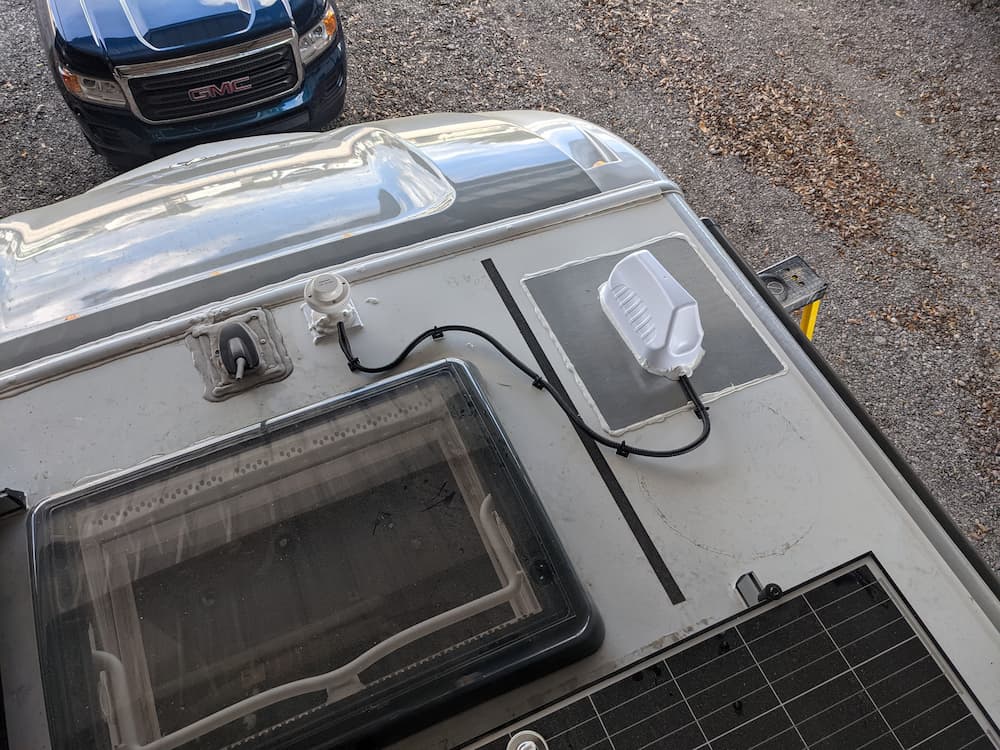 I've previously just attached ground planes with Dicor, but as this one was rather large and a bit thicker I added some VHB tape underneath. Then I took advantage of its dual mounting capability to route the Sirrius antenna down the same hole.
The antenna cable entrance is not quite visible in this picture. The antenna plus the 12 volt power cord are routed behind the TV. I mounted the router near the bottom inside the closet, below on the lower left.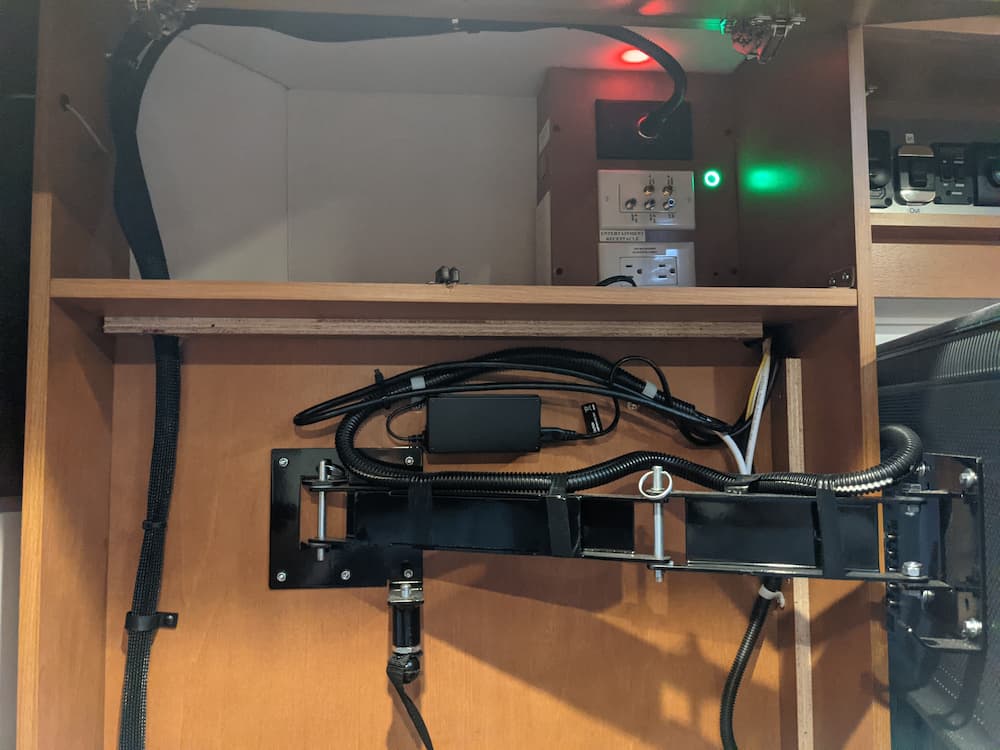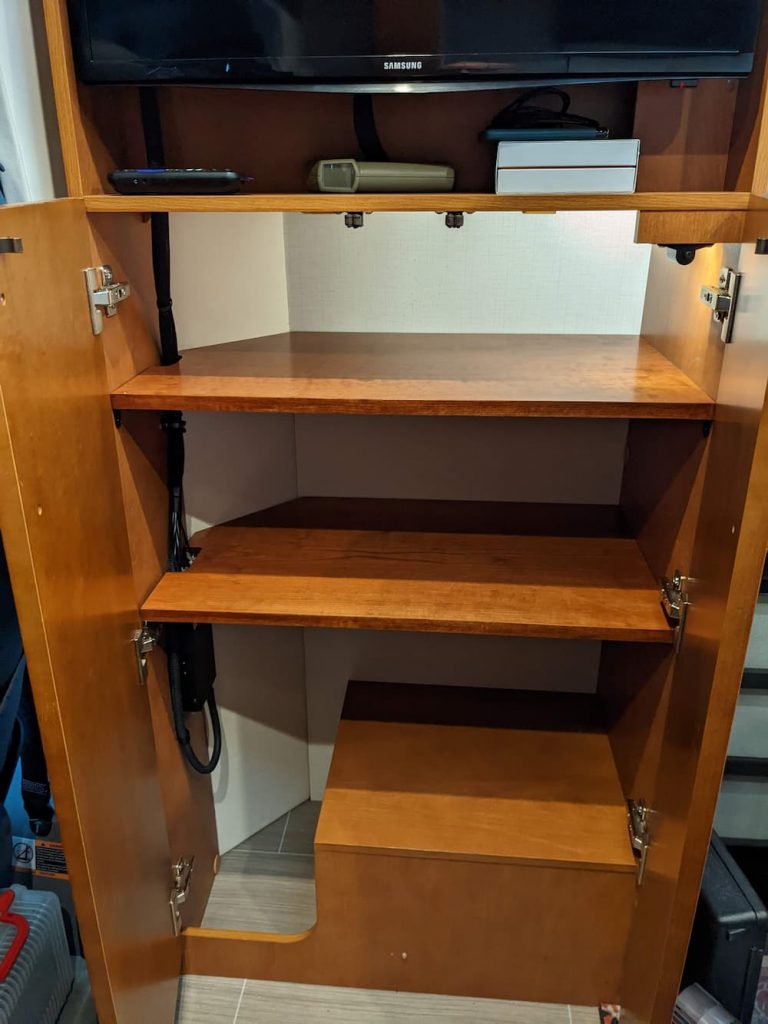 It also makes for a nice front profile now: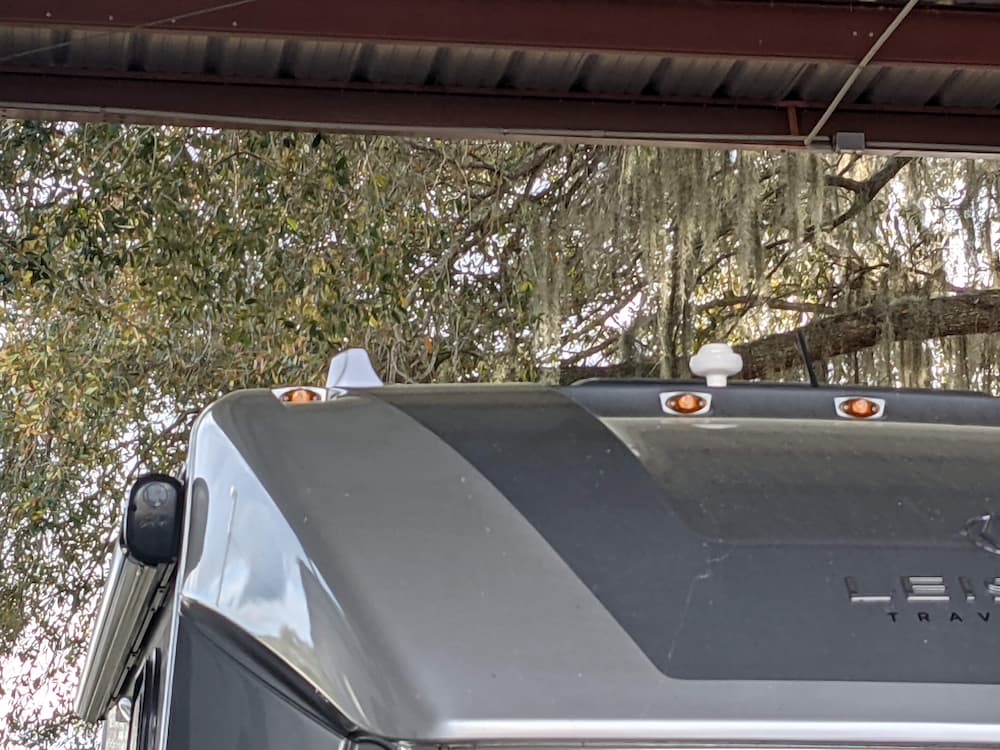 So now I have configured the Verizon sim as the primary and whenever the signal goes out the AT&T sim is automatically priority #2. There are many other configurations possible such as load sharing on both sims and Wifi as WAN if you have a stable Wifi nearby. For my usage it makes more sense to have the Verizon do primary duty by itself most of the time.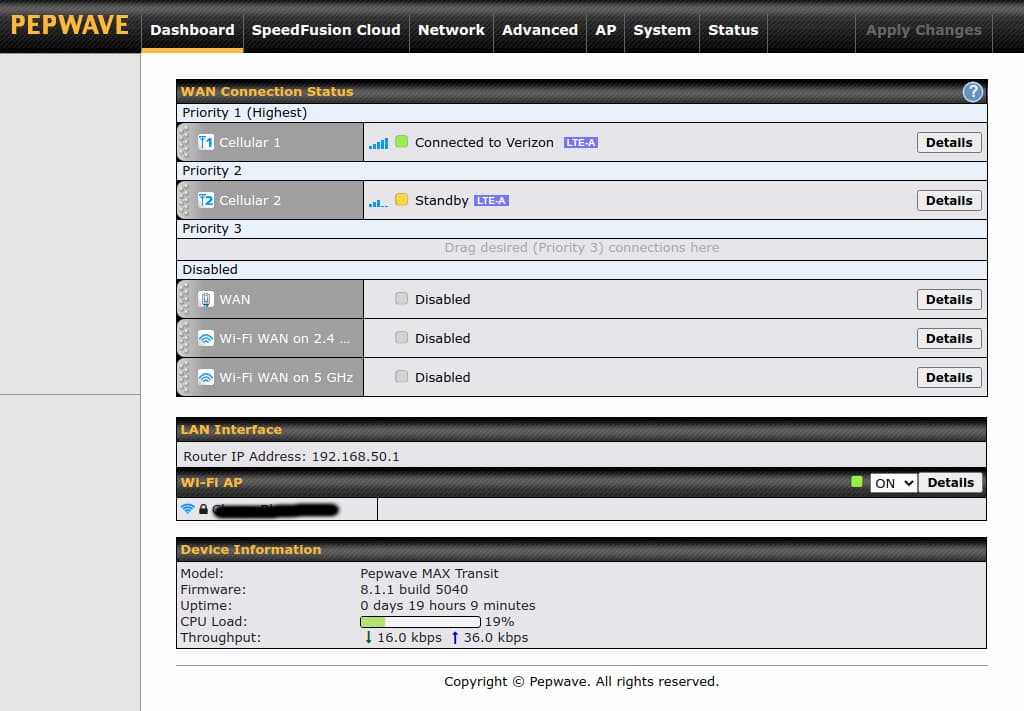 My initial immpression of the Peplink is very favorable.
So far I have found Pepwave also a lot more fun to configure than the Cradlepoint! While both Cradlepoint and Pepwave are designed for bigger commercial operations with trained IT specialists (think FBI van or commercial tour bus) the Pepwave interface is a lot more intuitive and enjoyable.
These things were formerly many thousands of dollars and just became (somewhat) more affordable.
So far this is turning our to be a really great addition to the internal quest for "home quality" Internet on the road.
Here is my parts list:
For the ground plane, you want galvanized steel. You could probably find a piece in Home Depot and cut to size, but I lazily ordered a custom made 16″ square from MetalsDepot.com. It cost a ridiculous $50+ with shipping. Also I bought 16 gauge which is a bit of an overkill for sure. But that gauge is stiff enough to use VHB tape underneath.
For the router and antenna I bought the bundle at MobileMustHave. I also ordered the 12 volt cigarette lighter cable there (which I had to extend).
And a few things off Amazon:
Links are paid