Update: Jan 10,2023 A few people asked me why I cut the pex and installed the Tee. The answer is that on my bowl the pex is so tight behind the toilet that there is not room to do anything.
If you can reach the water fitting behind your toilet, you might just be able to use the fitting that comes with the Bidet. Or this Sharkbite T fitting From Lowes. This will just thread right on to your toilet – no plumbing or cutting required!
The other reason I cut mine though is because the bidet water line would not reach to the toilet anyway.
Update: Oct 23, 2022 This was my first blog post – and still gets tons of hits – and not much has changed. One thing that has changed is that my Dometic 310 toilet finally bit the dust, so I ordered a new one off Amazon. The replacement toilet had a nicer wood soft close seat, which replaced the dinky plastic one.
However, I noticed that that the little plastic shell piece that covers the rear valves – people refer to this as "the hump" below I think – no longer accepts a bidet. For now I just reused my old plastic seat. Looking at the part, it looks like it would be pretty easy with a dremel cut off wheel to operate on the little plastic dust cover and shave off the offending plastic hump, but I haven't tried that yet.
Update: Jan 2, 2018 Thanks Google! I didn't think much when I posted this, but this page has been showing up in Google searches for terms like "rv bidet" and the like, actually becoming #1! Turns out a lot of people like having a clean time in the bathroom.
One question I get a lot is "how about fancier bidets with heated water and such? Well as I explained I personally don't see the need. We camp during moderate weather, and the water temperature is fine with us. The heated ones are also a potential mold trap if you leave them on all the time. But all that said a heated one would work out just fine. Just look for one that will physically fit in your space. (The fancy ones have a remote control panel which actually works well for the tight space).
And so back to the original article –
Note this article is a few years old but not much is changing with bidet technology. Please also check out a ton of other RV upgrades at the rest of the blog.
OK so, admittedly, the concept of the bidet hasn't really taken off in the USA. You see them now and then, but most of us are apparently content with wiping ourselves with copious amounts of Costco toilet paper and calling it a day.
Long ago we got hooked on these contraptions and have installed them in every toilet in the house. We started off with some fancy $600 version that had everything from built in heat to a butt dryer. (I kid you not). But besides being expensive, we discovered those devices were mold and mildew traps, hard to keep clean, and generally silly.
So the dirt cheap versions we use now just spray your ass (and potentially other nether parts) with whatever water is circulating in your cold water line. Most of the time the temperature of that water is going to be fine.
We just got our RV, and frankly didn't know what to do with the toilet without the bidet on top. The so called "septic safe" toilet paper falls apart in your hands, and you can't put a "flushable wipe" into an RV toilet. We read that some people keep a trash bag in their RV bath and toss used wipes into it, and, uh, that's just not happening in ours.
So really for an RV the bidet is just perfect. It greatly eliminates the need for toilet paper – just a few sheets are needed for, uh, drying purposes. The amount of water used is quite small with a little practice.
This is really a very simple project if you are an amateur plumber like me. If not, you could just purchase the items and then call any RV mechanic or even a regular plumber to make the connection for you.
I'll list the exact parts I used at the bottom of this post for reference.
First, I started with this bidet off Amazon: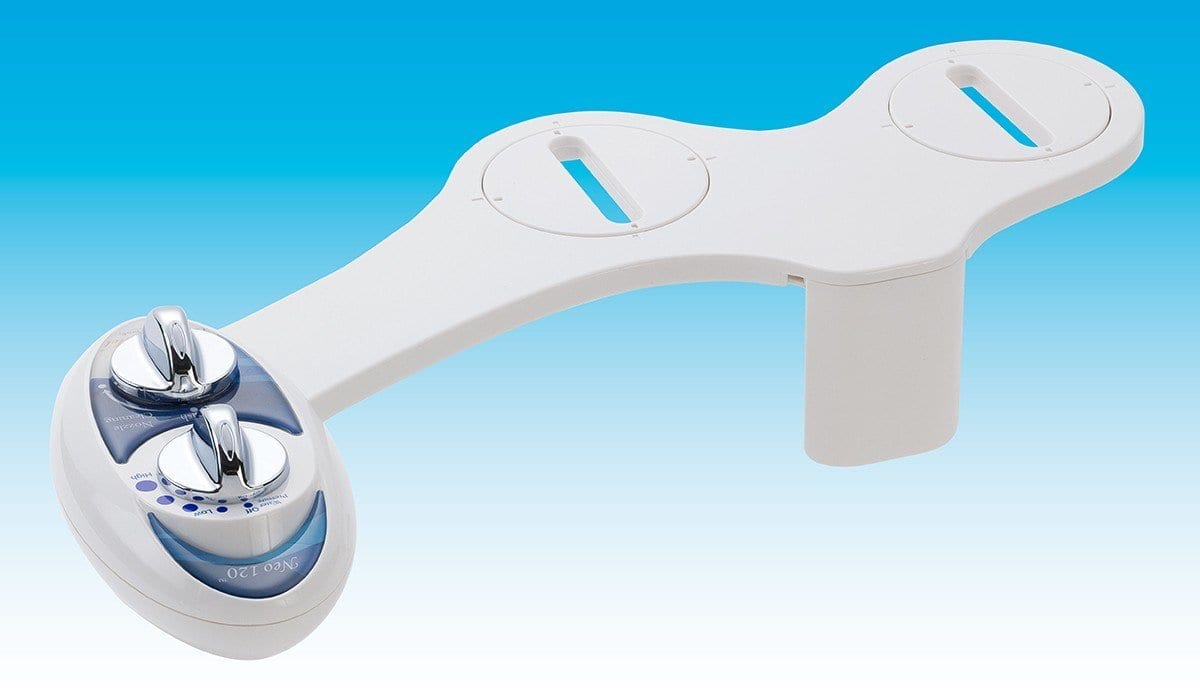 Its amazingly cheap (less that $35 as of 2018) and I already owned a few. As you can see all you do is remove the seat and fasten underneath. Well, almost. The RV toilet typically doesn't have home plumbing, so I had to improvise a little. My RV (probably like yours) has a 1/2″ pex line that goes directly to the toilet. After staring at it a while I decided the simplest approach would be to cut the pex line and install a tee for the bidet.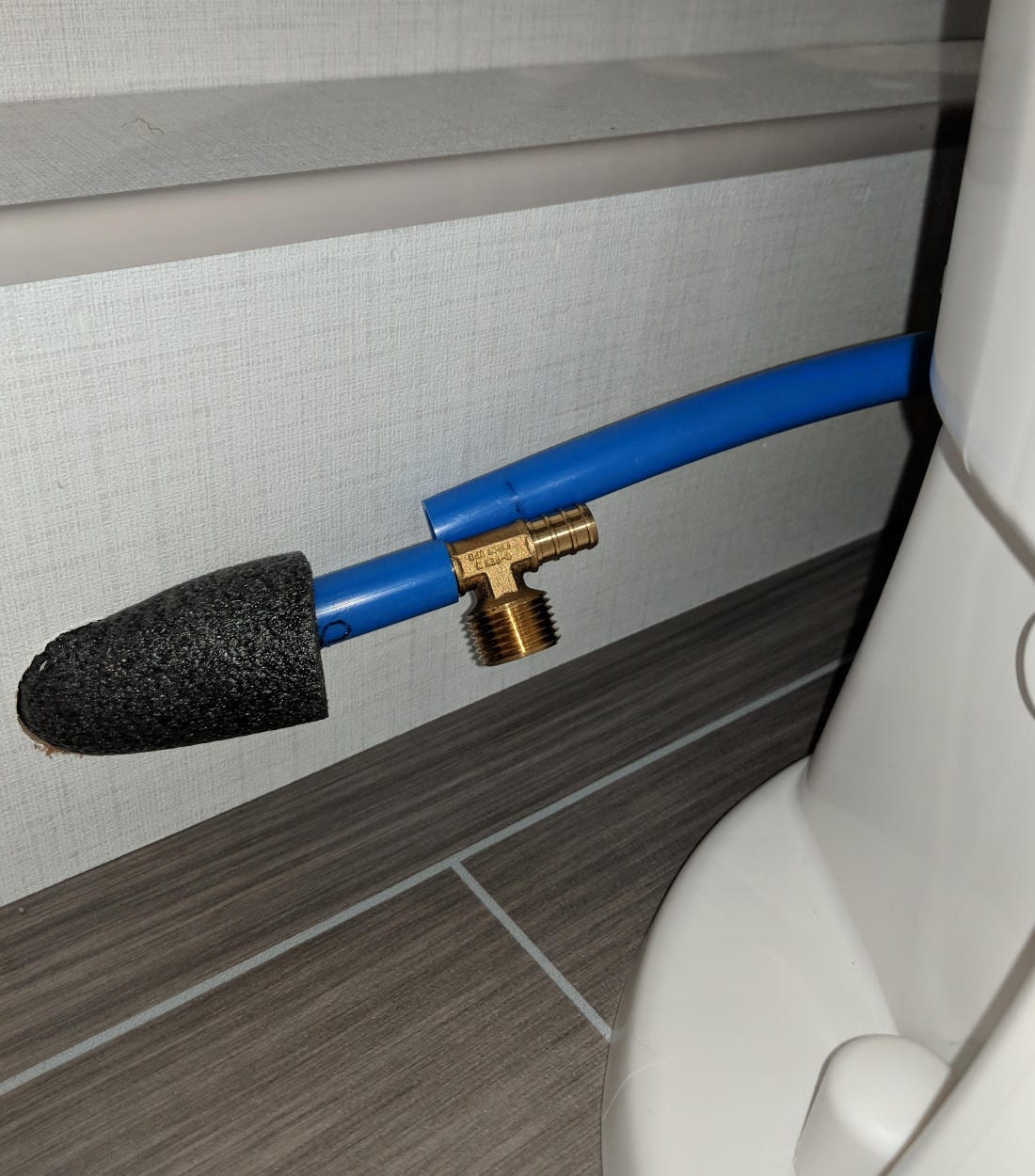 As you can see I selected a tee with a 1/2″ male thread which will fit the braided hose supplied with the bidet. The key is, after the first cut, insert the brass tee and make a precise mark on where to make your second cut. Pex is very stiff, so if you are off – even a little – it won't fit. A millimeter too long is good – you can bow the pex a tiny bit – but if you are too short you are going to have a bigger job.
If I was smart, I would have made the cut, then bowed the pex enough to get the other side on the tee, and probably finished in a few minutes. But I decided to remove the toilet side of the pex, which for reference, looks like this: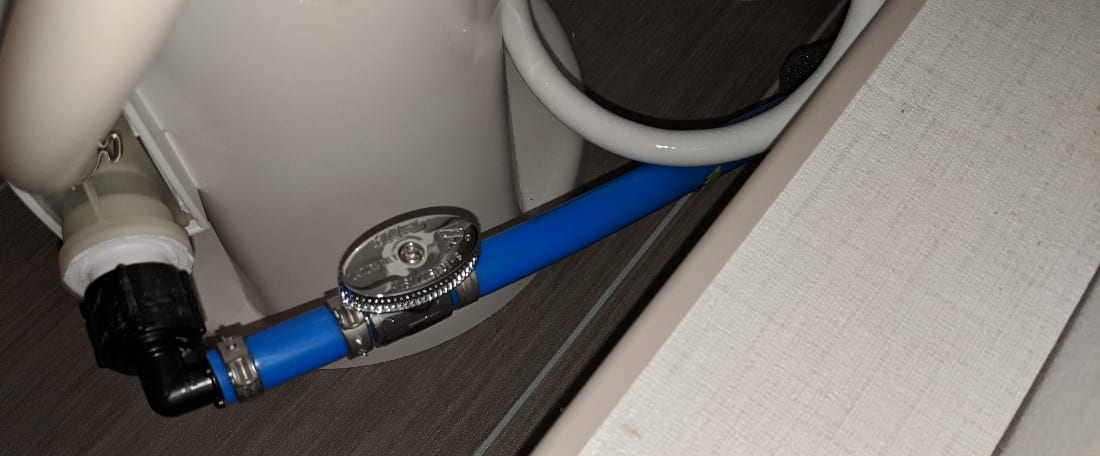 That probably wasn't necessary, and its a bit hard to put back on. Even with some liquid pipe joint compound – the kind that never hardens – and being very careful not to cross thread – that black plastic swivel connector seemed kind of cheap and hard to reattach. I had to tighten it a lot more than I expected to get it to stop dribbling. But it did make the tee connection a bit easier, and the final result looks like this: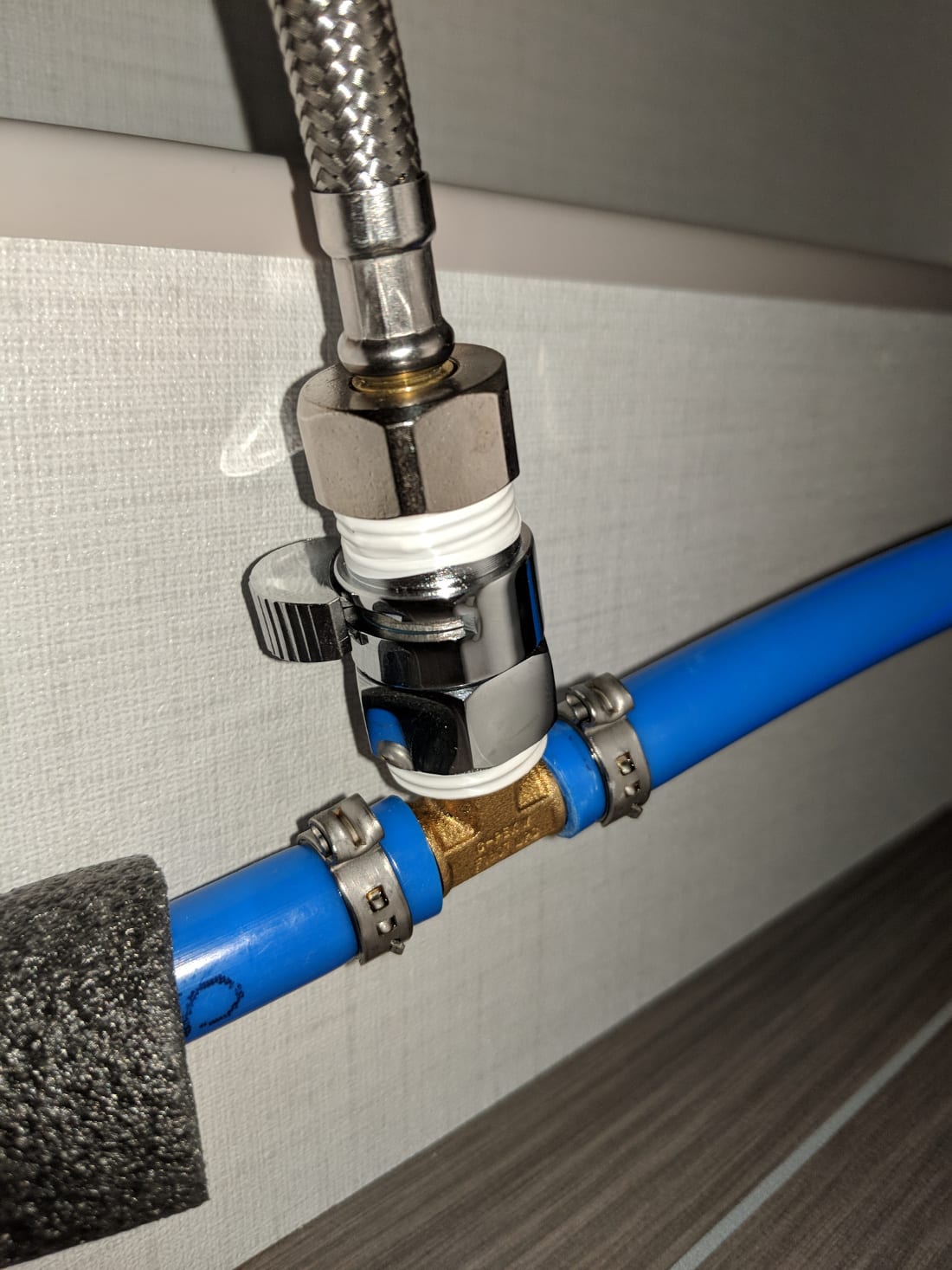 A couple things. First, since the length has to be so precise, if you do disconnect the toilet reattach before making your crimp. That way you can be sure the length is correct. Also, I added this perfect little shutoff valve before I threaded the braided hose on – which came with the bidet. It serves both a useful purpose in case the bidet springs a leak, but also you can shut it off if a toddler is around. I liked the shutoff so much I put a second one on the shower head – as the one supplied with LTV dribbled even when off.
The bathroom is so tiny that I was just barely able to get the pinch crimps on. The hardest part of this job by far was figuring out how to work in such a small space and then grunting and sweating trying to reach the pex and make perfect cuts and crimps.
So this pretty simple project resulted in the bidet working perfectly. It just fits the toilet as you can see in the first picture. The supplied braided hose just barely reached but presses against the wall a bit. I may look around for a 3/8″ compression elbow to alleviate that.
Here is a list of the products I used available at Amazon, except for the brass tee which I had to order from Home Depot.
Note: If you have never crimped a pex connection before its easy! I've also linked an inexpensive kit for pex:
(Paid Links)
So that's it. My first RV upgrade. We are looking forward to trying out the bidet on our next trip (but will not be posting any pictures of it in use).