Stuff happens, and just about anybody who travels in an RV extensively will have refrigerator problems sooner or later.
Or maybe you just want a truly tiny refrigerator you can use just about anywhere.
In my case, it was a refrigerator failure. While waiting for parts I needed something to keep some minimal items cold.
Unlike a lot of the junk ones being sold at the low end, this is a true compressor refrigerator. Meaning you can run it as a freezer or refrigerator (but not both).
I didn't test the freezer capability, but just knowing you can run it down to 0 degrees F or so means holding 35 F should be a piece of cake.
And it actually fits between our seats.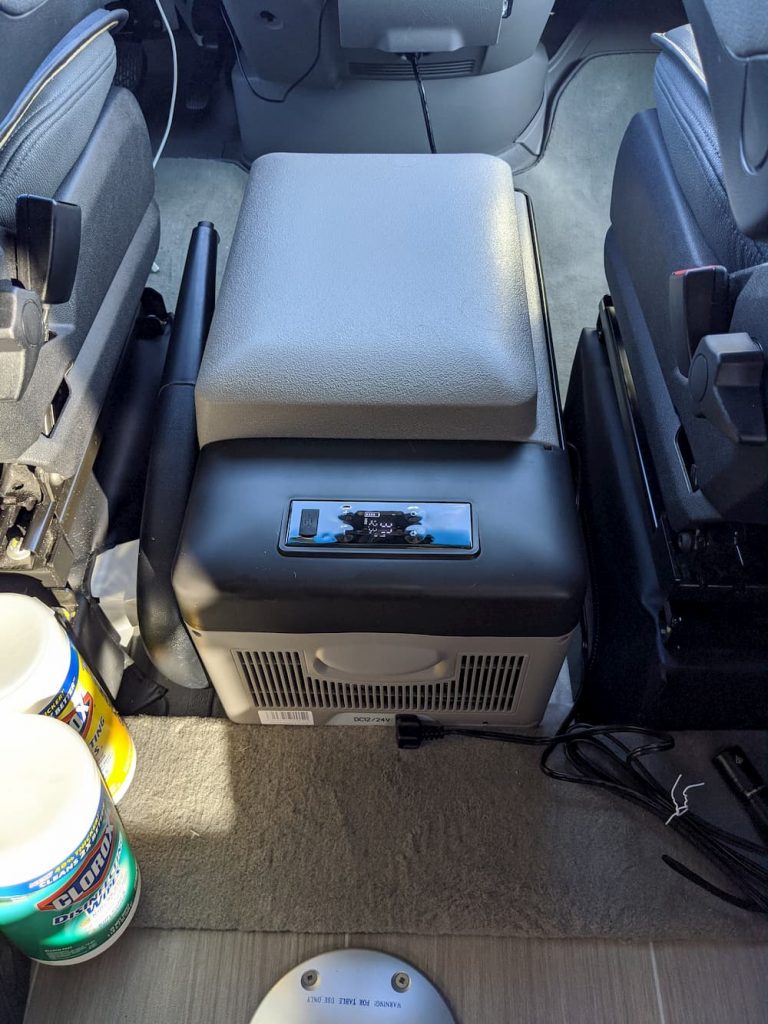 It includes both a 12 V "cigarette lighter" adapter and a 120 V power supply.
So far its working great. You have to manually switch power supplies. Our RV does not have a 12 volt plug in the coach, so temporarily we are running it off the chassis battery while parked or driving and off 120 volts while we have hookups. Thats not ideal but good enough for an emergency. (Maybe now I will finally install a 12 volt jack in the coach!)
Note: If plugging into your chassis jack like I am doing while driving or briefly parked, be extra cautious. I have no idea but if I assume this is pulling 2 amp hours and will quickly kill your starter battery.
I am guessing my starter battery is something like 50 amp hours so a load of 2 amps will VERY quickly deplete it.
There are various aids onboard this refrigerator to keep from doing that including an "ECO" mode, a voltage monitor, and a low voltage shutoff.
Just be aware its something to keep an eye on if you are camping for more than a few hours with no power.
So far I can't say anything bad about this. The Bluetooth app actually works but is prone to hanging. The temperature set seems within a few degrees of the actual temperature.
Over a couple days set to 35 its seems to hold the temperature with minimal running. I haven't tracked the power used and can't speculate how long this baby will last.
For (roughly) $200 I can't go wrong. There is more information and some helpful Amazon reviews at the link below.
(Paid Links)